VRBangers Review
Have you watched a VR porn movie? Have you heard about virtual reality? Then you must know the name VR Bangers. So here is my unbiased, in-depth VRBangers Review. These premium virtual reality porn video makers are known in the industry for their innovativeness, bold ideas and open mind regarding scenarios ideas for their VR porn fantasies. With three new releases up to 8K Quality per week, there's always something going on in the VR Bangers world – and that's precisely why I've decided to go through this network with a fine-tooth comb today. This VRBangers Review was updated on 5 January 2023.

The Overview
My first look at the VR Bangers' website was already quite pleasant. Service looks promising, it's full of many different contents, and it offers a very convenient mobile version – and there's even a special VR Bangers app called the PLAY'A available. Yet, I will tell you more about that later in my review. First, let's get to the basics and the most important things: the quality and amount of VR porn videos available on the website.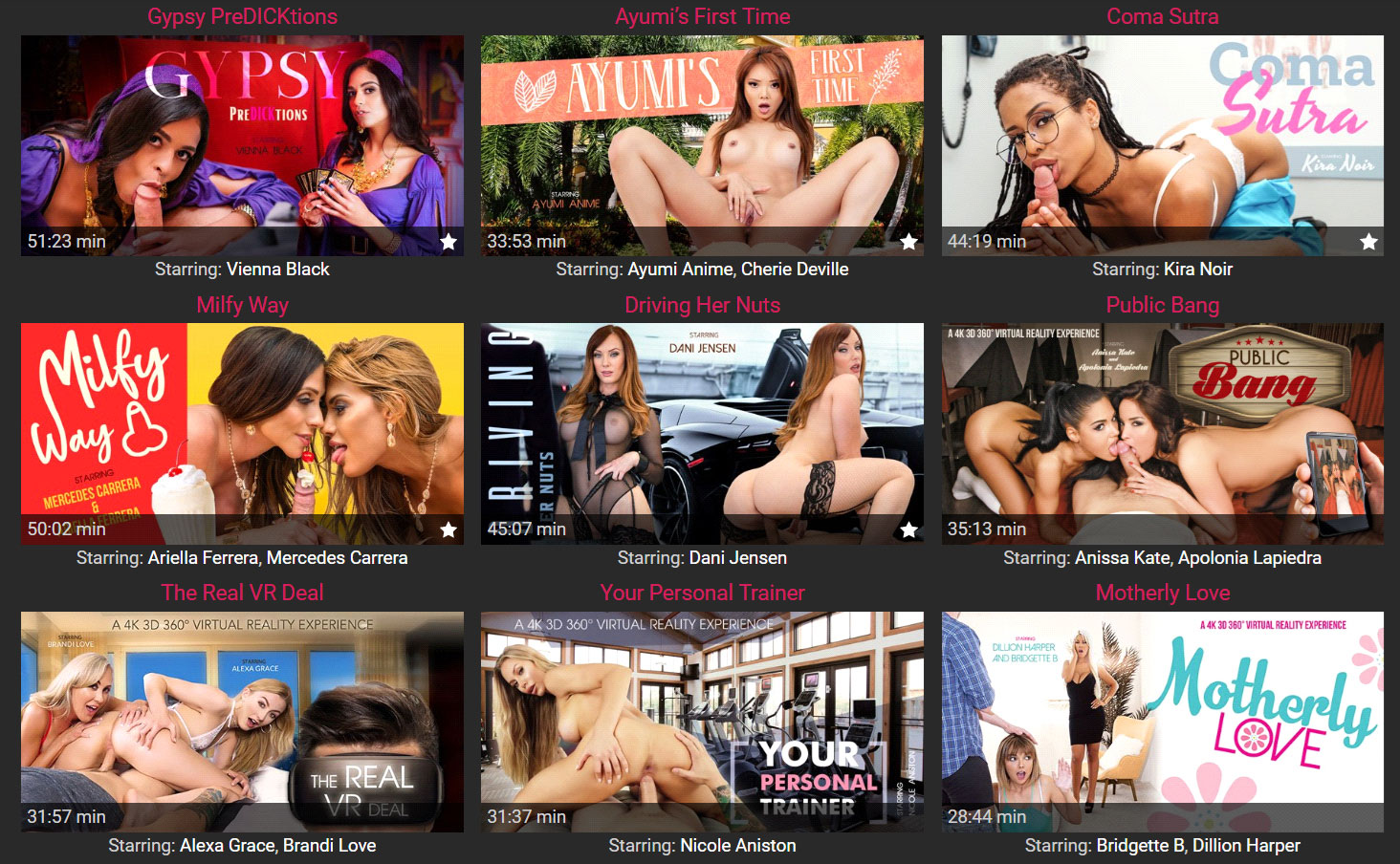 Huge VR Porn Movies Library
Going through all VRBangers' categories, I see there are 590 VR porn scenes as of 5 January 2023. This is without counting the VRGay and VRTrans videos on separate sites. Each of these virtual reality porn films lasts from 20 to 60 minutes (so, on average, about 40 minutes). Meaning VR Bangers' library can provide you with entertainment for 300 hours – or, in other words, almost 20 days of watching VR porn of all kinds 24/7.
Many Different Categories
There are over 70 VR porn video categories to choose from, including the industry classics like anal, MILF or lesbian VR porn movies, and some more unprecedented choices like Japanese or cosplay virtual reality porn videos. There's even that exceptional category called "For Girls," and it seems like VR Bangers are trying to fill the market gap and produce something that the female part of the audience will enjoy.
A Lot of Different Pornstars
Do you know what pisses me off in some VR porn sites? When we have dozens or hundreds of movies to watch, only a few/dozen actresses appear in all of them – everything seems to be the same. So I attach so much importance to this factor. It was one of the first things I've checked on for this VRBangers Review… and I was pleasantly surprised. It turns out that the number of available porn stars here almost catches up with the number of films (there are 437 VR Porn Stars altogether). So there is definitely a lot to choose from, and the above-mentioned sense of monotony does not appear here.
The Highest Available Quality
Enough talking about quantity because it's not the thing that plays the biggest role here. A long list of VR porn videos does not matter if their quality is not good enough. Having that in mind, I clicked on one of the first movies available to see the parameters.  I pay a lot of attention to details, and I was pleasantly surprised.
We are dealing with 3D 360° VR porn films with binaural sound support, which is not yet a standard for all VR porn movies on the Internet. VRBangers up this and offer their productions in 8K ultra HD quality. If I didn't have one of the newest VR goggles, I would not even be able to display this super-high resolution. Naturally, all videos can be viewed online via a web browser (also mobile) or downloaded to the hard drive of your PC, console, smartphone or standalone VR visor – regardless of owned model. Still, I will tell you more in the next paragraph.
Support for All the Modern VR Headsets
According to VR Bangers, their VRPorn videos support The Best VR Headsets for Porn, including those brand-new ones like Windows Mixed Reality or Oculus Quest/2. The list of supported devices consists, among others, of Oculus Rift/Rift S, Oculus Quest/Quest2, HTC Vive, PlayStation VR, Gear VR, Windows Mixed Reality, Oculus Go, Google Cardboard, Google Daydream and many other less popular choices. You may have noticed that WMR is not a VR visor straight ahead but a mixed reality solution, so if the Bangers' videos support such a device, most likely no matter what you own, you should be able to successfully watch their films – perhaps not in their full glory, but it's always something…
Many Membership Options and Frequent Promotions
I've subscribed to VR Bangers' newsletter for a while now and received many emails. There was a Mother's Day promo, Easter deal, New Year's promotion, Christmas offer, Thanksgiving one, and many others. It seems like there is always a brand-new deal to use.
It's very nice that you can save on membership on such a premium Virtual Reality Porn website, but sometimes it might piss you :).
Pricing
Like most premium VR Porn websites, you can choose from 3 different plans. The longer the subscription period, the cheaper it's gonna get.
One-month plan – $15 or just $0,50 a day
One-year plan – $150 or just $0,41 a day
The Best Deal – Lifetime access for just $250
The price-quality ratio here is just insane so
PLAY'A – the Official VR Bangers' App
As mentioned above, there's even a special app to make it all more convenient for the users, letting you "steer" everything with your hand gestures inside of the virtual reality already – giving you an easy plug-and-play experience right now after wearing your VR goggles. The app is PLAY'A, and there's a separate application for the gay and trans websites, obviously – just like I said earlier, not everyone is so open-minded. Additionally, they have an outstanding VR Porn game called Dezyred. It's really good that these additional services got separated from the original straight ones.
Proprietary Program for Affiliates – the VRB Cash
One of the last things that I checked was the VR Bangers affiliate program called the VRB Cash that, for some of you, might be completely useless, and on the other hand bringing the attention of many others of you – those who are looking to make some cash in the VR porn industry. It looks like the VR Bangers offer a few different affiliate options for their partners, letting you choose between the revenue share, affiliate referrals or typical pay-per-signup programs. (And if you like boring descriptions, please look at the image below. ;))
Innovative Initiatives inside the VR Porn Business
This is a VRBangers Review, an actual in-depth look at it, so… Once I went around the entire VR Bangers website and clicked on everything I could, in the end, I decided to go to the news section to see what they've got there. I read a bit about the company's initiatives in the VR porn market, and it turned out that the boys from VRB are doing a lot to appear in this ever-growing business. Their blogs about technical innovations and advice on "how to spice things up" for their readers did not interest me (although you may have a different approach). However, the projects carried out by the company have already attracted my attention. It turns out that VR Bangers supplied their equipment to hotels in Las Vegas; they have created their original.
Why Would You Choose VR Bangers' VR Porn Videos?
Since the market is becoming pretty crowded, I always like to answer this fundamental question out loud to help myself out. Now there are a lot of websites with high-quality VR Porn, so to separate them, I need a list. There's no better way to collect your thoughts than to make a clear and substantial list. Let's summarize everything that I've mentioned above in that form, then. In other words, within the VR Bangers membership, you get access to the following:
A vast list of high-quality VR Porn videos and professional VR pornstars are available. You can watch them online or download them in many different formats and resolutions. Those include 180°/360° 3D and up to 8K ultra-high definition!
PLAY'A – one of the fastest virtual reality porn apps/players on the market. It lets you wirelessly control your VR porn content and manage them with gestures. Either within the hard drive of your mobile phone or standalone VR goggles;
VRB Cash – the affiliate program that can make you a ton of cash.
Wide range of tech and lifestyle blogs about the VR porn industry. Technological novelties straight from the virtual reality world – not only limited to VR porn.
Advantages of VR Bangers
The easiest way possible, the main benefits are:
VRPorn videos available in the highest possible quality – 8K ultra high definition 3D 360°;
awesome price-quality relationship – it's not cheap, but premium in every sense of the word;
the vast diversity of contents in every possible way – both in the amount and variety;
everything works fast and smooth – including the app, the player and all three websites;
extras like VR Porn games, a great affiliate program and support for every VR visor available on the market.
Disadvantages
There are also some drawbacks worth mentioning – nobody's perfect, right? Simply speaking, the noted disadvantages are:
Some of the VR Porn movies are shot at 180° (I like those more);
older VR porn movies stand out – the ones "before the 4K/8K UHD era";
the newsletter had too many promotions, perhaps (But can be removed with a simple click of the unsubscribe button)
nevertheless, with the good quality-price ratio, the membership discounts are not always there and are kind of pricy. – scratch that. It is 2023, and they have GREAT Discounts
VRBangers Review – The Verdict
Simply said, this is the best VR Porn website. If you crave the highest quality, you will have a good time on the VRBangers website. They also give some very insightful things about the VR Porn industry from time to time. I recommend you become a part of the VR Bangers family ASAP. If you are here and have read the whole VRBangers Review, I tell you, click the button below, and if you are unhappy with your purchase, I`ll refund it myself!
You can join the VRBangers Here (or you might choose VRBTrans or VRBGay). After the good responses we received about our VRBangers Review, we will be including VRConk in our ever-growing list of Top VR Porn Sites!